Dyspepsia
A Techno-Existential Intrusion Into The Human Body
Mattia Casalegno x Frank Yefeng Wang
In an era that is riddled with the magnificent potentials of cutting-edge technology and the dystopian anxieties that come along with them, we witness the collapse of sciential and sensual systems as well as the blurring of tangible and intangible boundaries. The intruders in our fantasies spill out from our own bodies and minds, inducing gradual corrosion to the very basis of human cognition: the notion of "self".
Dyspepsia is a duo exhibition by Mattia Casalegno and Frank Yefeng Wang, both of whose art practices embody the juxtaposition of high technology and human bodies. For the 3D-printed sculptures, Casalegno uses Soylent as the material to mold classical statues: the prototype of human physicality; while Wang adopts Oculus Touch as a tool to redefine the relationship between everyday objects and disjointed body parts. The video works of both artists experiment with transmutation of existing forms, questioning the ambiguous line between human and machine, organics and inorganics, body and foreign objects, and ultimately, self and others.
Areté Venue and Gallery
67 West Street #103 Brooklyn, NY, 11222
On View: February 15 - February 28, 2018
Opening Reception: Saturday, February 17, 6-10 p.m.
Curated by Tansy Xiao
About The Artists
Mattia Casalegno is a New York-based Italian interdisciplinary artist. His work is influenced by both post-conceptualism and digital art, and has been defined relational, immersive, and participatory. His practice explores the effects new media have on our societies, investigating the relationships between technology, the objects we create, our subjectivities, and the modes in which these relations unfold into each other. Casalegno has received various grants and fellowships from the Eyebeam Center for Art and Technology, the Center for Cultural Innovation, Young Italian Artists Network, NYFA, The Elizabeth Foundation for the Arts and the Chronus Art Center in Shanghai, among others. He has exhibited internationally in festivals and museums, such as Mutek Festival, Kuandu Museum of Fine Arts (Taiwan), MACRO (Italy), Nuit Blanche (Belgium), Optronica (UK), Le Cube – Contemporary Art Museum (France), OFFF (Spain), AVIT (Germany), and LACMA (US).
Yefeng (Frank) Wang is a Chinese new media artist who actively pursues his artistic career in both East and West, and continues to think and work critically across media including Experimental 3D rendering and animation, video installation, virtual reality, and 3D printing. Wang has extensive experience exhibiting in venues internationally, which include Gene Siskel Film Center (Chicago, USA), Co-prosperity Sphere Culture Center (Chicago, USA), Hyde Park Art Center (IL, USA), El Museo Cultural de Santa Fe (NM, USA), Herald Square (New York, NY), HEREarts Center (New York, NY), Governors Island Art Fair (New York, NY), Xuzhou Museum of Art (Xuzhou, China), The Museum of Luxun Academy of Art (Shenyang, China), Hong Kong Art Projects Gallery in Hong Kong, China, Between Art Lab (Shanghai/Beijing, China), Chi K11 Art Museum (Shanghai, China), etc. He was also a residency artist and juried panel member in NARS Foundation in Brooklyn, NY.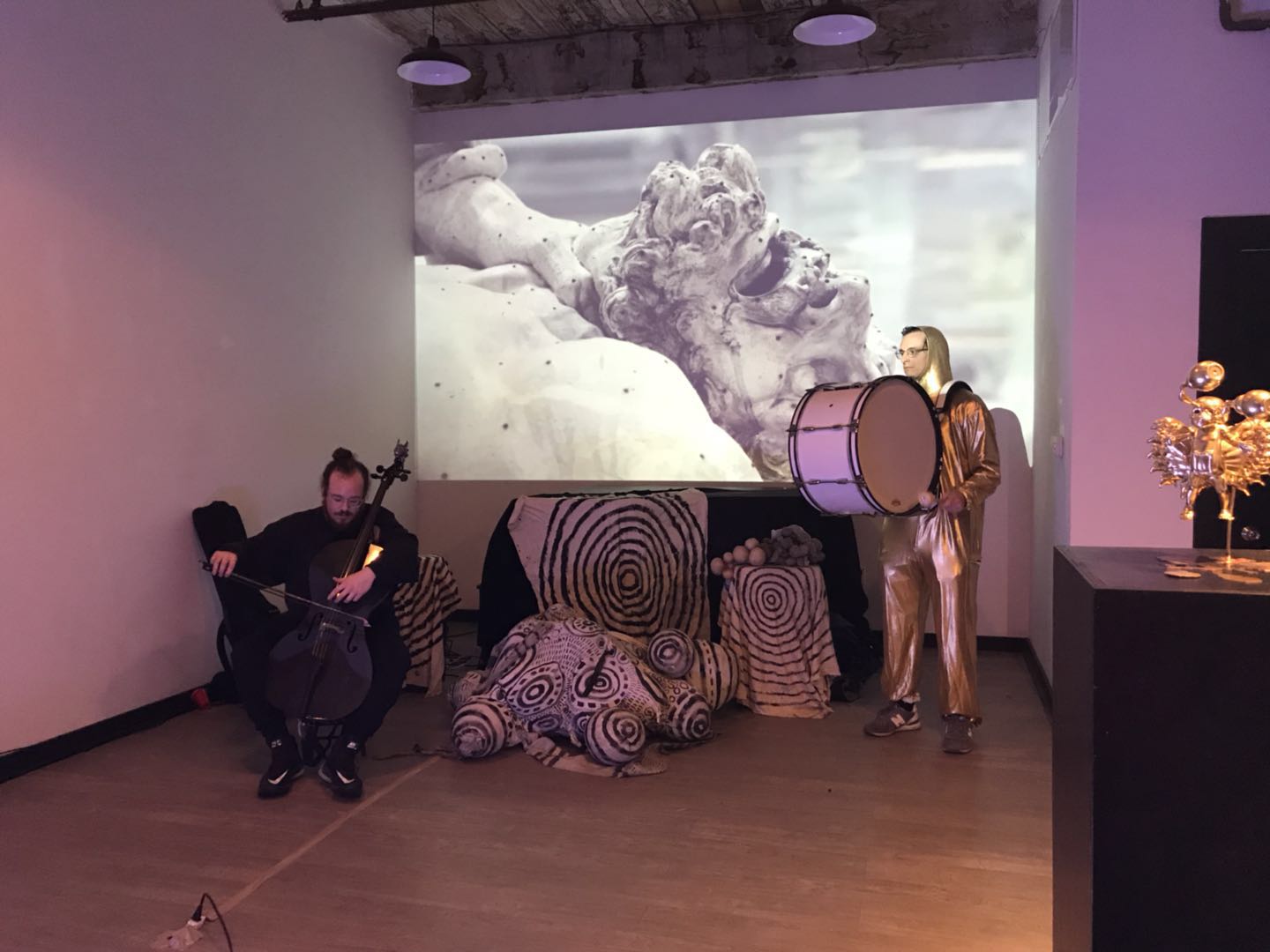 More pictures of the show & performance at the opening party, photography by Frank Yefeng Wang & Tansy Xiao